Wireless nurse-patient call system
Wireless nurse-patient call system, easy to install and very economical.
Request a quote
Immediacy in the care of residents in a facility is a key factor when high-risk situations arise. These situations can occur at any time and in any place. OXEEN's warning system generates immediate alarms at the push of a button from wherever the patient is, as it has fixed and wireless personal pushbuttons.
Immediate response
Nursing staff receive calls in real time, either on the OXEEN platform or in the app. When a patient presses a call button, hallway lights and illuminated signs will quickly alert staff near which room or WC it is.
Notice

The resident presses the call button from the room, bathroom or common area to request staff presence.

Signal receiver

Our signal receiver receives the call

Staff are alerted

Staff are alerted on their pager to the room, bathroom or common area requested by the resident.
The OXEEN system is an efficient wireless and portable alarm system that is easy to install and very economical. It provides coverage of the entire facility regardless of its structure.
When the resident activates any of the system's wireless accessories, such as the toilet handle, pear button, etc., the system is activated by the resident. The receiver alerts the auxiliary of the centre by means of a sound signal and/or vibration.
The number of the room or bathroom from which the alarm has been received will be displayed on the screen.
Very economic
No wiring required
Mobility
Staff receive the alarms on their receiver, wherever they are.
Good connectivity
Installation of a single receiver for the whole centre
Software
Real-time alarm visualisation and improvement reporting
Centralised
Centralised on the same platform as other OXEEN systems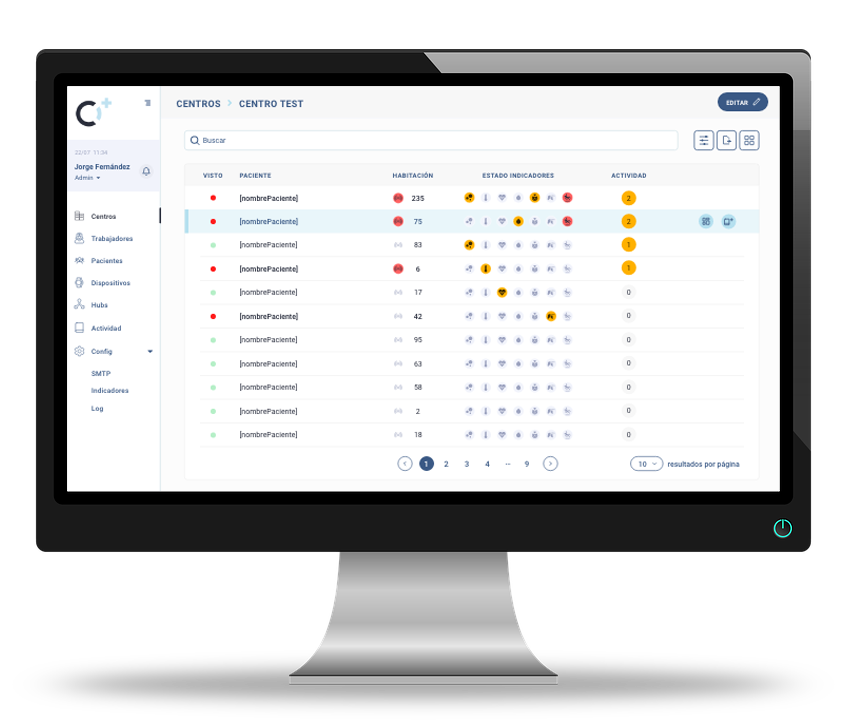 Cloud Web & App
All wireless pagers of the patient nurse call system are connected to the OXEEN platform and website. This way you will receive calls in real time wherever you are.
The OXEEN platform offers integration of different devices and multiple functionalities.
See features
Email: info@oxeencompany.com
Phone: + 34 608 099 388
Give us a call or drop by anytime, we endeavour to answer all enquiries within 24 hours on business days.